Krone Trailer Axle
Quality that pays off for you
Highest flexibility thanks to the diverse variants - Along with the proven disc brake, KRONE Trailer Axles are now also available in a smaller 377 x 45 mm version. KRONE also offers a piggyback unit. This means that your trailer can be optimally fitted to meet your everyday transportation requirements.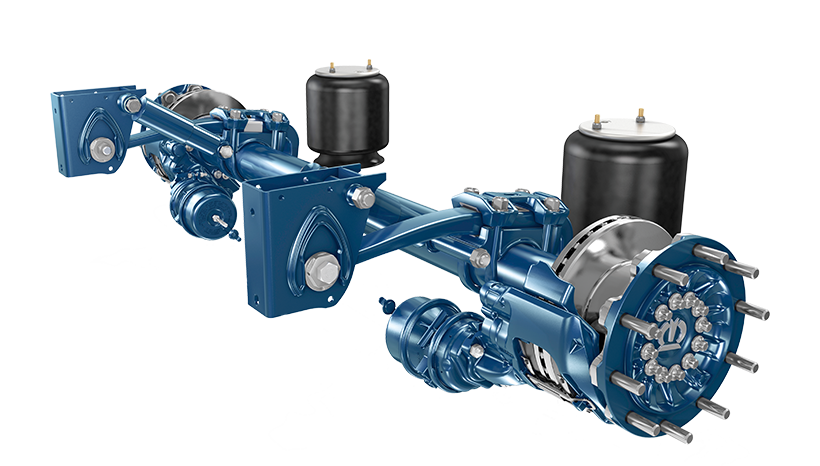 Superior in any concern.
Advantages at a glance
Minimal Life Cycle Costs
Low maintenance up to 6 years without mileage limit
Easy and quick brake disc replacement
Brake pads can be changed without special tools
Always a plus on equipment.
Simply inimitable
Corrosion protection is used to protect the surface: Surfaces that have a zinc phosphate and cathodic dip coating are protected against corrosion, which makes them more resistant to impact.
The axle body is particularly sturdy thanks to the friction welding process used. This gives you the best possible design to handle the bending and torsion loads as well as the highest possible security against axle fractures.
Thanks to the innovative design, there is more space between the brake disc and the maintenance-free wheel bearing unit. This ensures for controlled heat dissipation and increases the service life of all components.
The geometry of the brake disc is optimally adapted to the daily requirements. This enables a long service life, safe use and reliable service. The hub flange made from one casting without hub cap prevents faults when changing the brake discs as the wheel wheel bearing unit does not have to be dismantled.
The special single-tappet mechanism removes the risk of angled wear. Thanks to the continuous ring-shaped rim system, forces are optimally distributed to the rim, helping to prevent rim rupture and wheel bolt fracture.
The innovative sealing system is primarily to protect the bearings from external influences. When changing the brake pads, clamping rings hold the bearings in the hub. This optimises the protection of the components from dirt and damage. An encapsulated bearing unit simplifies maintenance and service.
The bearings are optimally pre-adjusted at the factory, so that they achieve the highestpossible service life. Thanks to the particularly large distance, the bearings are subjected to less stress. This also has a positive influence on the service life of the axle.
The solid and durable axle body of the axle is the basis for a long service life. High-quality materials and special annealing of the axle stub are the roots of an axle on which you can fully and completely rely.
Quality, efficiency and a long service life are also at the forefront of KRONE Trailer Axles with drum brakes. Innovative detailed solutions meet proven technology and ensure high levels of durability and reliability in your everyday transport life.
Services
KRONE quality does not end at the factory gate.
Documents
Product-specific data sheets and operating instructions can be found in our download centre.
download