Profi Liner HD
SDP 27 eLBX10-SW
Profi Liner HD Flatbed.
The Profi Liner HD impresses with its reinforced chassis. It is designed for use in demanding transport applications and particularly for export markets.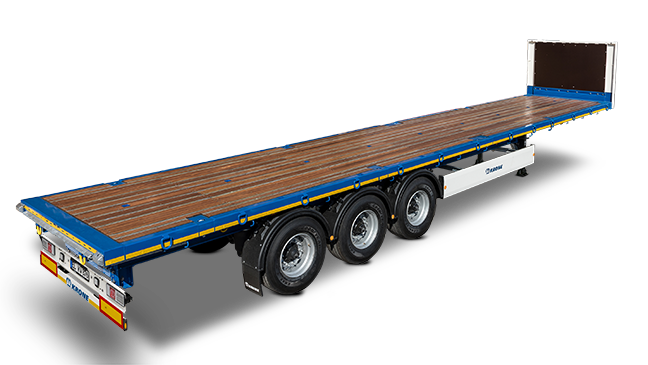 Superior in any concern.
Advantages at a glance
Flatbed variants:
Deliverable in lengths of 12,400 mm and 13,480 mm with a coupling load of 16,000 kg.
Versions: Flatbed/Curtainsider
for export markets:
Deliverable length of 12,400 mm with a coupling load of 18,000 kg.
Always a plus on equipment.
Simply inimitable
Practical options:
Heavy duty axle assembly.
Strapping rings on the outer frame.
Strapping hooks on both sides below the outer frame.
Container locks for: 1 x 40', 2 x 20', as well as 1 x 20' in the middle (up to 30 tonnes).
Post sockets in the outer frame.
Floor variants: Steel segment floor (checker plate), Hardwood floor/plywood floor.
Disc or drum brakes.
Stowage box for tools, food, water tank, fire extinguishers, etc.
The rear of the vehicle is of a particularly sturdy design. The lighting bracket and underrun protection are individual components and can be replaced separately.
Longitudinally installed hardwood floors with edging made of omega profiles, 30 mm thick.

High-strength strapping rings on the outer frame and strapping hooks below the outer frame are used for load securing.

An open depot located laterally below the chassis holds the plug-in posts when not in use.
The Profi Liner HD can also be equipped with container locks for holding containers up to 40'.

Protection and strength are assured with the combination of a front-raised chassis and reinforced phenolic guard plate. In addition, the front wall has been designed to permit side loading.
Impressions






Technical data
King pin load up to
Axle load (technically possible)
Allowable gross weight up to
Tare weight, app.
Services
KRONE quality does not end at the factory gate.
Documents
Product-specific data sheets and operating instructions can be found in our download centre.
download